I haven't seen Yngwie perform in a long time, but for a while, he was really into playing the opening measures of Paganini's 4th Violin Concerto.  Good choice; it's a great opening, really dramatic melody.  I have to hand it to him for finding something that's not so standard.  I mean, it's still Paganini – Mr. Popular among guitarists wanting to play crazy classical licks, but the 4th concerto is much more obscure than the frequently performed #1, not to mention the super popular 24 Caprices.
But, I was always hoping that he'd keep going and play the solo part, which is where the real fun starts and the whole purpose of the piece!  It opens with a huge arpeggio that is a challenge to play on the guitar.  Check out this youtube video below.  It picks up right where Yngwie typically stops, which is where the real solo work begins.  Right away, there's a huge E major arpeggio; you can hear it in the first 10 seconds of the video.  Sorry for the poor quality, but finding a recording of this would have been practically impossible before youtube.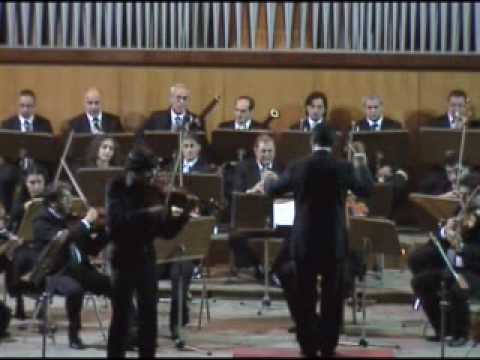 That clip is under five minutes, but just the first movement alone is around fifteen minutes.  Yngwie quoted the orchestral opening long ago and he's pretty well known for it.  So, I don't wanna bother posting any youtube videos of it.  But, check this out…
(above) Yngwie's "Arpeggios From Hell"
Dang, it always feels like I'm picking on Yngwie.  I don't mean too; he was my number one influence on me when I first started playing and I'm still a fan today.  I can't tell you how many Yngwie songs I learned.  Anyway, it's the intro to the video that I'd like to point out.  He says, "…it has the most extreme arpeggios that I've ever come up with."  That makes me think:  "If only he would have continued with the Paganini #4, then he, for sure, would have met the most extreme arpeggios ever!"  Because the ones in that Paganini piece are way bigger and badder.
The few arpeggios that Yngwie plays in here are all sequenced, meaning he'll play three ascending notes of the arpeggio, drop back down two notes, play three more ascending notes (moving one note beyond the previous three notes), and repeat until he's gone way up the neck.  Sure, this is pretty extreme (and of course he's playing them fast), but it does give you plenty of time to put your left hand into position.  The one in the opening of the Paganini is a straight four-octave arpeggio – no sequences.  The lefthand has to move much faster.  Oh yes, and it's also wider.
[audio:http://www.shredtheclassics.com/wp-content/media/audio_samples/paganini_vc_4_1.mp3]
(above) Here's the tab to the opening of the solo part of the 4th concerto by Paganini.  Note:  I dropped the arpeggio down one octave so it can be played on a normal guitar.  Keeping it in the same octave as the original notation would mean you'd have to hit the G# at the 28th fret and the high B natural at the 31st fret!  The arpeggio is fingered the way it is to attempt to enforce even playing of the notes.  If you're an excellent sweep picker, you may want to finger it differently, like playing the first four notes all on the low E string so you're set up for a big sweep pattern across all six strings.
As a theory side note, Yngwie also says, "…in a lot of different modes."  That doesn't really make sense.  Modes have to do with scales, not arpeggios, which are just chords that have their notes played individually in some sort of sequence.